Thank you Nuffnang PH!
Hi everyone! I scored two (2) tickets to the special movie screening of "So Undercover". When the FBI hires her to go undercover at a college sorority, Molly Morris (Miley Cyrus) must transform herself from a tough, streetwise private investigator to a refined, sophisticated university girl to help protect the daughter of a one-time Mobster. With several suspects on her list, Molly...
Live Your Style with adidas NEO
"Always be yourself, express yourself, have faith in yourself, do not go out and look for a successful personality and duplicate it." - Bruce Lee   I am very random person. I like sports, music and a bit fashion. But I'm pretty normal. I like simple things. I'm a bit talkative. I'm not afraid to talk but of course I just prefer to think about stuff first.  I'm...
Fansigns?
Who wants to have an edited fansign? Like these.. I made this all for my loving cousins: Lee Min Ho Kimpoy Daniel Padilla and Kathryn Bernardo Mario Maurer Daniel Padilla and many more. Want to have edited fansign? Madali lang, just vote me in facebook and gagawan kita agad-agad!:))) Guys, sandali lang 'tong ipapagawa ko sa inyo mga 5mins lang then may fansign na...
Happy Birthday to my best friend, Abegail Leona!
Someone asked me before, "and dami-dami mong kaibigan paano mo malalaman kung sino yung totoo sayo?" ang sagot ko, syempre hindi ko naman agad malalaman kung totoo ba sila sakin kasi it's there choice eh, if they're true to me, salamat, pero kung hindi naman problema na nila yun basta ako I'm true to all my friends. Wala akong kapatid, so I really value friends who...
Daniel Padilla Shirts Winners
Hi everyone I know you guys are so excited!  Again, I chose the winners RANDOMLY and via Random.Org Out of 32 who tweeted "I want to win Daniel Padilla shirts. http://bit.ly/VtCF6N  @avibuncaras" here are the winners! 12. @pauleen_sy 8. @_melodygonzales Congratulations! Please DM me your mailing address so I can send your prizes. Thank you sa lahat ng sumali. Nakakatuwa...
12 tags
Romantic Movies
Someone asked me in my ask.fm if I can post some romantic movies. I'm really happy cuz I know there's a lot of people who loves my blog. Though I rarely update it. Huhu love you readers <3 . So yeah here are my most favorite romantic movies.  IF ONLY - A lonely singer/songwriter and the man of her dreams take a second shot at love after fate intervenes into their romance in a...
1 tag
START THE YEAR RIGHT WITH SULIT.COM.PH
Hello 2013! Another year, another blessing. The new year brings each of us a new beginning. What has happened in the past year is behind us; neither the good nor the bad can be erased. Instead, we confront 365 days of opportunity to demonstrate that we have learned from the successes and challenges of the year, of the years,  through which we have come.  I am a busy IT student, daughter,...
7 tags
Shirts Giveaway!
One of my good friend, Alexander Abinias gave me bum shirts yesterday, dapat nung December pa but we were both busy. Anyway, I'll be giving away the tees to Daniel Padilla fans, cuz the two shirts are Daniel Padilla Tees :"> Here are the designs: How to win? Follow me on twitter. @avibuncaras and tweet "I want to win Daniel Padilla...
2 tags
Watch
Kiefer greeted my cousin Jenny. Plus a fansign for her and to Catherine. Thanks Kief!
3 tags
Sunday Love!
Spending the 20th of January with Kiefer, his family, his team mates in Ateneo and the KP! Super fun day! Thanks Kief, and to Greenwich too! :">  Kief signed my planner. And he said "Ako ang laman ng January mo Avi..":)  from the Ravenas! Ravena calendar is on my wall na!:)   I really had fun yesterday though I rushed to Glorietta after for Les Misérables with my...
2 tags
FReSH Perfume Store for Perfume Addicts
According to Sonia Juttla, it's a real shame when she hear people say that they don't wear fragrance: it's something to be savoured, like wearing a beautiful ring. And I am totally agree with that. According to her also there's such a story that goes with the olfactory experience. It shouldn't be like something that you throw on and then get bored with. Searching for...
7 tags
Book Review: Why We Broke Up
I'm telling you why we broke up, Ed. I'm writing it in this letter, the whole truth of why it happened. Min Green and Ed Slaterton are breaking up, so Min is writing Ed a letter and giving him a box. Inside the box is why they broke up. Two bottle caps, a movie ticket, a folded note, a box of matches, a protractor, books, a toy truck, a pair of ugly earrings, a comb from a motel...
PCCL Championship
Yeah. What an updated post. RB took forever to upload hahaha yay! But hey man, thank you for the pictures.  So both of my buddies (Shinji and RB) are UST fan, but because they were late we ended up sitting at Ateneo Ring Side, *Ateneo fan here* hahaha! It was an exciting game. Ji, me, and RB Man, someone's lookin at you.. haha Crush ko yung nasa kanan. Obvious ba? hahaha Oh...
11 tags
Where She Went
It's been three years since the devastating accident … three years since Mia walked out of Adam's life forever. Now living on opposite coasts, Mia is Juilliard's rising star and Adam is LA tabloid fodder, thanks to his new rock star status and celebrity girlfriend. When Adam gets stuck in New York by himself, chance brings the couple together again, for one last night. As...
1 tag
Spending holidays with Team Shomba and Team...
Yeah, you read it right. We spent our hoildays scaring ourselves to death like what we used to be. But me and my cousin Joan belong to Team Insidious, cuz we were brave enough, I guess. Watching horror movies on holidays, what a nice idea. Slow clap. Anyhow, I  miss this. I miss my cousins and my tita's and the bonding. Foodtrip in the morning, videoke madness in the afternoon, yes it was...
1 tag
2 tags
5 tags
4 tags
Lak
So yeah, I just blogged recently my tito's pasalubong for me from Thailand and Laos. Earlier he cooked Sin Dat (Lao BBQ) and gave me Lao Kip/LAK (money in Laos) and dollars. 
one of the best christmas gift!
A year ago, I got Zildjian Play with Fire 5B drumsticks and today I just received my Pro Mark drumsticks from my bestfriend! OMG!! #happyme 
2 tags
2 tags
5 tags
sweet christmas!:)
My tito Fundard got back from Thailand, though he was in Laos for quite some time. And here are some of his pasalubong for me! :"> A LOT OF CHOCOLATES BABYYYY!!!  I don't care about my eyebags. Haggard kung haggard teh! lol  <3 Super favorite ko <3 dami ko na nito!:) Thank you Tito Fundard! Welcome back to the Philippines. Merry Christmas!:)
1 tag
They love me. I love them.
For the past 3 months, DBP became my second family. I love all my boss, same as the way they love me. I'm so thankful to be one of their intern.  Thank you to all my boss sa pa-despedida nila to me. I love my last day. Nasa camera ni Ms. Imee yung mga pics nung bonggang lunch. I'll upload it soon na lang meanwhile here are some of our pics from my bb during merienda and from Princess...
2 tags
the pats
I am an avid reader of http://www.pattylaurel.com and a fan of The Pats. I like the simplicity and the maturity of her blog. I can still remember when I first watched the video of  Patrick proposing to Patty. How romantic. They are such an awesome couple. And when the wedding has finally arrive I'm one of those happy-fan-blog-reader of Patty.  As I checked my twitter timeline tonight, got...
kwentongdimoinakala-deactivated asked: How come na update niyo po yung tumblr ni Kiefer Ravena? Friend mo po ba siya? Kung oo, please tell him to notice me. Cause I love him so much. @jjoeyxo po username ko sa twitter. Thanks po and God bless. :)
timmyloveskobe asked: Hello dear :) Just wanna ask, how were you able to contact Kief/Ish? Thank youuu :)
5 tags
5 tags
6 tags
You know, I'm just bored..
So I decided to search some dress that I would love to wear on my graduation. Well, it's a few months from now. I'm a bit excited! Yay! I already have an idea what to wear on my my grad. I'm no expert in fashion. As long as it's comfortable, I'll definitely wear it. I have always been crazy about a  black lace dress. I think black is an elegant color for both of...
3 tags
4 tags
Book Review: If I Stay
On a day that started like any other… Mia had everything: a loving family, a gorgeous, adoring boyfriend, and a bright future full of music and full of choices. Then, in an instant, almost all of that is taken from her. Caught between life and death, between a happy past and an unknowable future, Mia spends one critical day contemplating the one decision she has left—the most important decision...
PENCIL: You know, I'm really sorry.
ERASER: For what? You didn't do anything wrong.
PENCIL: I'm sorry, 'cause you get hurt because of me. Whenever I make a mistake, you're always there to erase it. But as you make my mistakes vanish, you lose a part of yourself. You get smaller and smaller every time.
ERASER: That's true, but I don't really mind. You see, I was made to do this. I was made to help you whenever you do something wrong. Even though, one of these days, I know I'll be gone and you have to replace me with a new one, I'm actually happy with my job. So please, stop worrying. I hate seeing you sad.
ME: aww :(
2 tags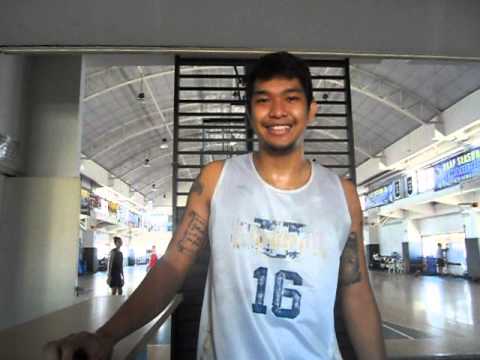 2 tags
from my team Alji!
I have the sweetest friends. Love you team Alji. Thanks for the cakes John and Ida. Yay! My birthday celebration isn't over right Jhay and Lhen? :) Can't wait nextweek! Happy birthday to me!:)
1 tag
the heart of bulldogs
Remember, I blog about Ray?  He saw the blog already. I'm really glad he likes it. Finally we're friends na! :) Photo taken after their match against UST. (Semis)  I like the way he dunks and shoots 3's. I love watching him play. He gives it all every time when he is on the court. I have a lot of respect for him. He has all the skills a basketball player needs to have. And...
1 tag
For Sale!
For IT/CS/COE/ICT students, you may be guys need this on your thesis. Tenda S105. Compact 5-port 10/100M Fast Ethernet switch, supports auto MDI/MDIX.  Magnetic Card Reader MSR90. It reads ISO7811, AAMVA & most other data formats. Just tweet/message me on facebook/or email me if interested and for the price.
4 tags
Kiefer on GGV!
Because of Kiefer, we were able to watch GGV taping live. Thank you Kief! :) kahit late na, at di niya ako na-tag he still greeted me! :) 
I wish I understood
I don't want to feel this way. I just do.  I'm tired of trying to hide it, I'm tired of trying to find peace in my heart when there's no sign of it coming and I'm tired of everything. But I can't fight it, it hurts too much. Why can't I just be happy like before, with what I have like everyone else seems to be. Why can't I wear my real face instead...
3 tags
Bulacan madness!
Bulacan is always special for me. No stress. No problems. Just a good life. I thank my classmate and thesis groupmate, John, for always having us in his place.  Last October 13, we went to Bulacan to celebrate John's birthday. It was kinda late though. Lunch. our favorites! #kids we watched 'The Mistress' yay! kulitan!!!! :) John ordered huge pizza for us plus...
I'M STILL ALIVE BUT I'M BARELY BREATHING!
How are you guys? I miss my tumblr. Isn't the title of my blog post interesting? Well, here's what I'm up to for the past few weeks: I am currently working as an intern, IT Support at the Development Bank of the Philippines, Makati. I made Ray Parks Jr. a blog. :) Me and my brother watched UAAP semis only because of Ray Parks. And I met him personally. And he knows me na....
3 tags
Underdogs no more
Last Sept 13, I finally met one of my favorite baller Bobby Ray Parks Jr.! He was super nice. I also asked him about his twitter. And he signed my planner too! Have you watched there do-or-die game against FEU last Saturday? Damn! this man shows why he's the reigning MVP. He's still the MVP this season, mind you. (spoiler alert) *insert-smiley-face-here* teehee! AWESOME!!!  He was...
4 tags
team Alji!
Ganito kami pag-stress.